I love teeth! I love working for a dentist who is a physician of the masticatory system and not a tooth-by-tooth dentist. I am a dental assistant and I support my patients to complete care!
We are the on the frontlines with patients.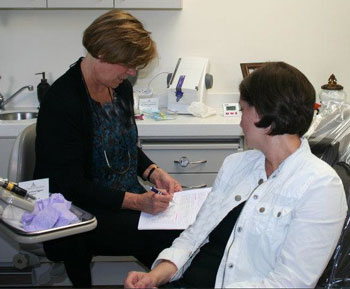 Dawson-trained dental assistants have an understanding of how the masticatory system works. Teeth, gums, muscles and joints all working together in harmony! We are also trained to know when one of those systems is not working properly. As dental assistants, we are one of the first people that our patients talk to about their dental concerns and when we listen closely we will hear key points with those concerns.
Understanding the signs and symptoms leads to the 'why'.
Our doctors have been taught to look for signs of instability, through a series of "checklists" that they go through when performing a complete examination and ultimately treatment planning. When we become familiar with those signs of instability ourselves, in all four parts of the system, talking to patients about moving forward with treatment becomes so fulfilling because we understand the 'why' behind the reason.
There are alarms that go off when I hear certain things from the patient now.
We may hear things like "After my last dentist placed my crown, my bite feels different and now my tooth is very cold sensitive. I keep being told I have to get used to it because the crown looks fine." Or, "I have been waking up with headaches every morning."
What a Dawson-trained dental assistant is now thinking, as being told this information is, possible occlusal trauma leading to the tooth sensitivity; does this patient need an occlusal adjustment or equilibration? Is the clenching and/or grinding causing the headaches and will this patient benefit from a nightguard? Once our doctor has made the diagnosis, we are now fully able to speak to the patient about the benefits of the treatment recommended and why.
We are looking at and treating the whole system, not a single tooth.
This is why the benefit to the patient is we evaluate the whole entire system and understand how it works and understand when it's not. I could not imagine working any other way knowing everything that I know now. It is amazing how much we are able to treat when we look at whole system, rather than tooth by tooth. It is even more valuable when your doctor can identify something in the system that is not working and you both are able to talk to each other about it.
Our expertise is a major standout point compared to a customary dental practice.
In our practice, I love to see the response from the patients when they walk in the door. They just can tell right away that we're different or from the moment that they call on the phone, they understand that we are very passionate about what we do and what we believe in. I think the most important thing is that we truly believe in this type of dentistry because we know that it works and it's predictable.
It is also the constant care and trust in these relationships, on top of all the education and expertise that set us apart.
I know the patients feel it, they understand it. We are told all the time when the complete examination is over that they just experienced the most thorough exam they ever had. Some even say we checked for things that they don't ever recall having done to them before. They often say how impressed by they were by how thorough we were.
It must begin with the dentist.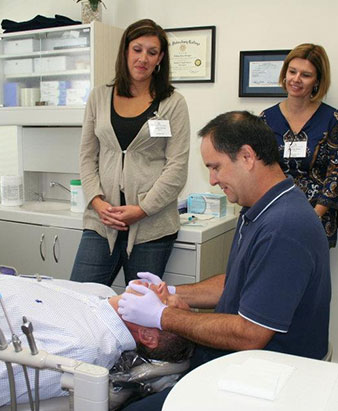 I believe this all starts with the doctor's training, and everything that they have learned through Dr. Dawson and all his teachings. Those teaching are then taught to the rest of the dental team. Beyond the clinical skills, we learn about compassion, that caring and being as thorough as we can is what is best for everyone, not the numbers. Our patient's are real people that walk through the door, and they're getting quality time. They're getting one-on-one attention from the doctor. They're spending an hour with the hygienist. They're not being milled through, and they're real people behind the smile.
At the end of the day when I reflect on all those that have sat in our chair, I smile because I know they have been given the blessings of coming to a Dawson trained doctor and team.
Get you team on-board with your passion at Dental Assistant's Role in Supporting Complete Dentistry.