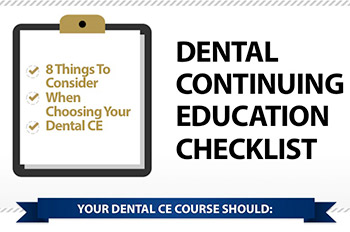 Dental CE courses are more than something you need to cross off your to-do list.
In The Dawson Academy office we have a plaque with a quote on it that we all find very important. The plaque says:
"The professional man has no right to be other than a continuous student," - Greene Vardinand Black.
No matter what industry you work in, it is important to continue learning and advancing your skills throughout your career. When it comes to the dental industry, continuing to learn is crucial for providing great, complete patient care.
Selecting where you will take your dental continuing education courses can be confusing and overwhelming, though. Should you just take your CE at dental meetings? Would a free course in your area suffice? Should you go to an organization, like us, that all they do is teach CE courses?
We know there are many things to consider, that's why we created this checklist. These 8 things are extremely important to think about when selecting who you will go to for your dental CE.
Learn more about The Dawson Academy by clicking here and then use the dental CE checklist to see if The Academy is the perfect fit for you.
Now tell us, is there anything else you consider when selecting where to take your dental ce courses?